The past few weeks I've felt like I've been caught up in a tornado. And that doesn't even include the tail end of Sandy.
The best part of the whirlwind has been the support of my friends and family and meeting fabulous people who love books!
Last week, I was on a panel at the World Fantasy Convention.
My panel was called "Romancing the Monster" (or beast?) and the panelists were:
Nancy Kilpatrick
,
Sephera Giron
,
Chris Szego
,
Patricia Briggs
and me! It was a great discussion about the appeal of monsters in romance, horror, urban fantasy and YA and I was super excited an honored to be sitting next to Patricia Briggs. Even more excited when she complimented me after, as did her husband, Mike, whom I had a great conversation with over a cup of hot chocolate when we couldn't squeeze into the too-small room where they held the opening ceremonies right after the panel. (With bagpipes!)
I wish I could have attended more of the convention, but I double (triple?) booked myself last weekend and on Saturday I went to the Ontario Blog Squad's 2nd Annual Meet up.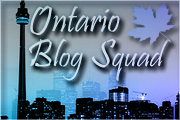 What a fabulous event! Book bloggers from all over Ontario gathered at a pub on the waterfront. Publishers gave them tons-o-books and I was thrilled to be one of the seven authors they had as guests.
Here's a photo of my lovely table mates for lunch: @GwenythLove of
Rants N Scribbles
and her sister Alina @AjKitKat It was an absolute pleasure talking to these two women and fellow YA fiction lovers. They're planning on doing a sister-vs-sister double review for
DEVIANTS
once they read it. I'm equal parts nervous and excited.
I loved talking to everyone, but really had fun meeting the lovely Tiff Ing @mostlyyalit who did a great wrap up of the event
here
. (And took a really good photo of me that she posted on her blog, I'll have to ask her if I can snag it... the candid one.) Tiff heard about
DEVIANTS
from
Diana Peterfreund's blog
interview and the lovely things Diana said about my book, and we bonded over our mutual admiration of Diana.
Here are a few more photos of the event:
And as if all that weren't exciting enough... the YA Apocalypse Tour launched last night! (Plus, I turned in my line edits for COMPLIANCE at about 4:30 am on Monday, I mean Tuesday.)
Here is the fab poster they did at the store;
So thrilling. I'm wishing now that I'd asked if I could have it...
And here we all are after the talk:
And finally... DEVIANTS on actual book shelves, in an actual store... Thanks so much to Indigo Yorkdale for hosting the event and to Megan and her publicist for making it happen!!! So much fun.
The tour continues here:
Saturday Nov 10, 2pm – Chapters Belleville
, Quinte Mall – Megan Crewe, Lesley Livingston, Maureen McGowan, Cheryl Rainfield, Courtney Summers.
RSVP on Facebook!
Saturday Nov 17, 2pm – Chapters Brampton
, 52 Quarry Edge Drive – Leah Bobet, Megan Crewe, Lesley Livingston, Maureen McGowan, Cheryl Rainfield.
RSVP on Facebook!
Saturday Nov 24, 2pm – Chapters Barrie
, 76 Barrie View Drive – Leah Bobet, Megan Crewe, Lesley Livingston, Maureen McGowan, Cheryl Rainfield.
RSVP on Facebook!